As a pioneering brand, BMW is a symbol of luxury and exquisite design. With such style and functionality, your modern-day 'beamer' features an array of increasingly complex electronics, meaning it's critical to seek an experienced, highly trained professional like UK Auto Locksmith. Whether you've lost your only key, locked it inside the boot, or need one reprogramming, we can provide a rapid response. Covering all areas within the M25, we have become a leading BMW Auto Locksmith in the capital, offering a full range of car locksmithing services.
How do I get a replacement key for my BMW?
Our BMW Auto Locksmiths provide a professional service of the highest quality at an affordable price – with absolutely no hidden fees or extras. If you have been locked out of your vehicle, damaged your key, had one stolen, or need an ignition repair, UK Auto Locksmith can see you through this challenging situation with rapid assistance wherever you are in London.
✅ No call-out charge
✅ 30min response time
✅ Up to 12 months warranty
✅ 2nd key up to 50% off
Call UK Auto Locksmith anytime and we will be at your location anywhere in London within 30 minutes!
We've honed our craft over many years, but even with cutting-edge technology and modern processes, our proven experience is what sets us apart from the competition. You only need to read through our reviews on Trustpilot to see how we've helped people in the past, but should you need any further information, we're on hand to help 24/7

.
Can a locksmith program a BMW key?
Whether you're the proud owner of a BMW 1 series, 3 series, 5 series, Z4, or any other model, we're highly skilled in key, remote, and ignition repairs, as well as key reprogramming, lock picking, decoding, and EEPROM programming. If you currently have a BMW remote that's not working, it's highly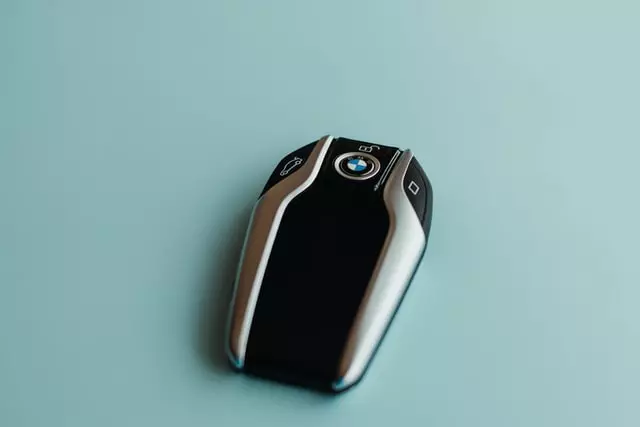 likely you will need a replacement. We've found that with most modern-day vehicles, after a few years keys can stop opening and closing, and this is because they use rechargeable batteries that are not replaceable, so after time the remote function of the key no longer works.
As with all leading automotive manufacturers, we're aware of the common issues and can quickly and efficiently ensure you regain access to your vehicle. If your transponder key is damaged or broken, we also specialize in key programming using cutting-edge equipment that connects to your BMW's electronic system. At the same time, we're able to create spares quickly and efficiently – so it doesn't have to be a lengthy process!
The benefits of choosing our services
We're not like run-of-the-mill locksmiths, we specialize in auto locksmithing and have decades of experience helping BMW owners overcome tricky situations.

We provide the most competitive response time in London – only 30 minutes!

As a BMW auto locksmith, we only hire professional, highly trained, and experienced technicians so that we can guarantee quality workmanship, with a 'right first-time' approach.

You can get a quote quickly and easily online or by calling our team.
NO matter what type of key you need, our professional car locksmith team in London is here to help you.
Everything Drivers Should Know About BMW Car Key Replacement
Drivers who have lost their BMW keys will admit how stressful the experience is. Some wonder how they will commute to work. Others fear that thieves may steal the car while they are asleep. Luckily, such drivers can solve the inconvenience by applying for a BMW key replacement.
Nowadays, people use key fobs so we will focus more on a BMW fob key replacement. To understand the process better, we have to address certain questions below that some drivers may have.
FAQ:
How much is a replacement key for a BMW?
The cost of replacing lost BMW car keys depends mainly on the type of key necessary for the vehicle to start, and the costs vary depending on the service you need. 
 For lockout- Start from £99

 For Lost key- Start from £149

For Key repair- Start from £129

For Copy Key- Start from £129

For Key replacement- Start from £129

For Ignition Repair/replacement- Start from £249
What information do I need to give to the locksmith?
To program your BMW car keys, the assigned locksmith will need to have the following information at his disposal:
The model of the vehicle

The year of purchase

The car registration details

The Vehicle Identification Number (VIN)
The above information is necessary for the locksmith to understand the type of key that your vehicle needs. The VIN is normally located on the dashboard, on the driver's side.
The locksmith will need the relevant documents which will confirm that you are the owner of the vehicle.
Which areas do you cover?
Having centres in areas like Barnet, Bromley, Croydon, and Hertfordshire, UK Auto Locksmith offers 24/7 Automotive Locksmith Services, including lost car key replacement, emergency car lockout, and key and remote repair services
What Happens If You Lose Your BMW Car Key?
Some drivers may rush for a BMW key replacement, but there are things they can do first. They could try locating it with a key tracker app. If you cannot find it, then you can deactivate it. After all, you wouldn't want the key to fall in the wrong hands.
To deactivate the key, you must do it through third-party services such as BimmerTech. It will be rendered useless within no time, and you can consider a BMW fob key replacement.
Can I Start My BMW Without the Fob? 
It is possible to start your car without a BMW key fob. You can locate a small hole on the driver's side next to the steering wheel. After that, insert your key into the hole, and the car will start. Unfortunately, if you lack a car key and a fob, a BMW key replacement becomes your only option.
Even though you can start the car without the fob, we do not recommend it. First, its alarm will go off, which will annoy your neighbours. Another challenge is that the car will not lock itself, which means anyone can enter it. That means you cannot run away from getting another fob.
How Do I Replace a Lost Key Fob?
You must order one from any approved BMW centre to get a replacement BMW key fob. At the centre, a technician will ask for your car's 17-digit VIN. The VIN is near the front of the windshield or the driver's door jamb.
Additionally, you will need proof of the car's ownership, such as the car title and driver's license. Finally, you will pay a fee so that we can send you the new BMW key fob.
How Long Does the BMW Key Replacement Process Take?
If a driver's key needs a battery change, the process takes only 15 minutes. However, if you need a new fob key, it can take up to two days. That is because we will need to inform the parts department so that they make the parts available for it.